Contest Period
10 April 2018
to
midnight (CET) 30 June 2018
Contest Procedures
Step 1

Participation in the Contest

You must read all terms & conditions before entering the contest – by entering the contest you will be deemed to have agreed to the terms & conditions. Follow the steps under Contest Entry to take part by midnight (CET) on 30 June, 2018(Saturday).
Step 2

Contact of Shortlisted Participants

Shortlisted participants will be contacted via Instagram Direct from "@sonyrxmoments" Instagram account by end of July 2018 and will be required to send in their photos with EXIF data intact within the designated period.
*If no response is received within 5 days of being contacted, the participant is deemed to have withdrawn from the contest.
**Please be informed that only shortlisted participants will be contacted.
Step 3

Announcement of European Winners

Winners in Europe will be announced by mid-August 2018 through "@sonyrxmoments" Instagram account and through Sony Europe E-mail. Winning photos from Europe may also be shared via "@sonyrxmoments" Instagram account and other Sony Group Social Media accounts.
Step 4

Announcement of Global Winners

Global winners will be selected among winning entries from each region, and announced in mid-September 2018 on "@sonyrxmoments" Instagram accounts, and also on Sony group Social Media accounts and websites.
Step 5

Dispatch of Prizes

Both regional winners and global winners will be notified by via Instagram Direct from the "@sonyrxmoments" Instagram account and will be requested to provide their contact details including address to facilitate the dispatch of prizes.
Awards and Prizes
Prizes for European Winners
1st place: RX10 IV (approx. Value €1,800/£1,600)
2nd place: RX100 V (approx. Value €1,000/£900)
3rd place: RX0 (approx. Value €800/£700)
Prizes for Global Winners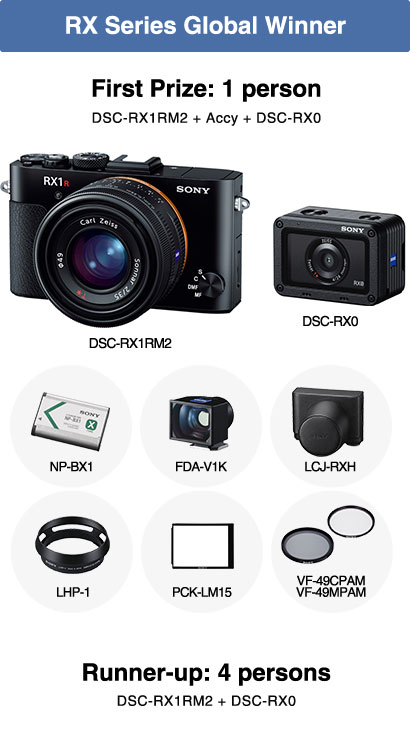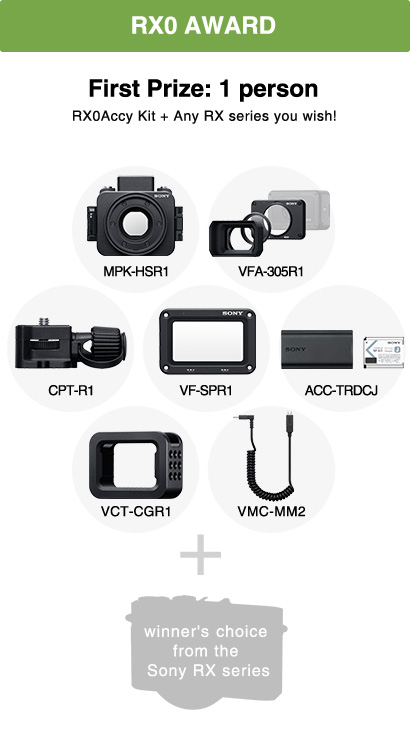 RX Series Global Winner First Prize: 1 person
DSC-RX1RM2
Professional Compact Camera
NP-BX1
Rechargeable Battery Pack
FDA-V1K
Optical Viewfinder Kit
LCJ-RXH
Jacket Case
LHP-1
Lens Hood
PCK-LM15
Screen Protector
VF-49CPAM
Circular Polarizing Filter
VF-49MPAM
MC Protecting Filter
DSC-RX0
Ultra-compact digital camera
approx. Value:
€6,200/£5,500
Runner-up: 4 persons
DSC-RX1RM2
Professional Compact Camera
DSC-RX0
Ultra-compact digital camera
approx. Value:
€4,800/£4,200
Global RX0 prize:1 person
Camera of winner's choice from the Sony RX series
MPK-HSR1
Housing
VFA-305R1
Filter Adaptor Kit
CPT-R1
Cable Protector
VF-SPR1
Spare Lens Protector
ACC-TRDCJ
ACC-TRDCJ Accessory Kit
VCT-CGR1
Cage
VMC-MM2
Release Cable
approx. Value:
€1,800/£1,600 (plus value of selected RX series camera prize)
Terms and Conditions of Sony RX Series Instagram Photo Contest:
NO PURCHASE NECESSARY
The promoter of the Sony RX Series Instagram Photo Contest ("Contest") is Sony Europe Limited, The Heights, Brooklands, Weybridge, Surrey, KT13 0XW, United Kingdom ("Sony"). The Contest is in no way sponsored, endorsed or administered by, or associated with Instagram. Instagram is hereby completely released of all liability by each participant in this Contest.
The Contest is open to individuals aged over 18 who have a personal Instagram account and are resident in United Kingdom, Ireland, Germany, France, Austria, Switzerland, Belgium, Netherlands, Italy, Spain, Portugal, Denmark, Norway, Sweden, Finland, Poland, Luxembourg, Czech Republic, Hungary, Turkey, Estonia, Lithuania or Latvia. ("Qualifying Countries"). Employees of Sony group companies and their family members are not eligible to enter.
The Contest will start on 10 April 2018 and will end at midnight CET (11pm BST) on Saturday 30 June 2018 ("Contest Period")
To enter the Contest you must complete the following steps:

Step 1: follow the '@sonyrxmoments' Instagram account;
Step 2: upload to your Instagram account a photograph taken by you personally using a Sony RX series camera and add the following hashtags (first three are required, model name is optional):

'#SonyRX'
'#SonyRXmoments'
'#country_RX' (to be completed with your country of residence using the list below)
'#model name' (e.g. #RX100M5, #RX10M4, #RX1RM2)



List of valid country hashtags:

Submitted photos must have been taken using a Sony RX series camera. Your Instagram account must be set to public in order to participate in the competition. Once posted, your photo must remain on your Instagram account until the end of the Contest Period set out at section 3 above, otherwise your entry may not be acknowledged.
By submitting photos in accordance with section 4 above and entering the Contest, participants will be deemed to have accepted and to be bound by the Contest rules and these terms and conditions. Any further entry instructions given by Sony and posted on this webpage or @sonyrxmoments Instagram account will form part of the Contest rules.
Subject to section 9 below, the photos may be of anything you like, whether it be architecture, nature, travel, family events anything else that takes advantage of the features of your RX camera. There is no limit on the number of photos that you can upload to participate, but each photo must be unique and comply with these terms and conditions.
Save for basic digital processing (eg use of Instagram filter or adjusting contrast, brightness etc.), photos must not have been altered digitally or photo-shopped in any way. Photos must not contain any watermarks or photo credits.
Participants are prohibited from tagging or entering any defamatory, libellous, obscene, pornographic, profane, threatening, or unlawful material (both in respect of photos and any associated comments/tags) or any material that could constitute or encourage conduct that would be considered a criminal offense or give rise to civil liability, or otherwise violate any law or Instagram's terms of use. Participants may not submit photos that include third party brands.
Sony will review all eligible entries submitted through Instagram during the Contest Period and the photos will be judged, at Sony's sole discretion, on the basis of the level of creativity, originality and visual/emotional impact of the image. A shortlist of entries will be selected by Sony on the basis of the preceding criteria and the final decision on winning entries will be made by an independent judge whose decisions will be final and binding.
Participants who have submitted potentially winning entries will be contacted using Instagram Direct from the @sonyrxmoments Instagram account and will be required to submit the EXIF data relating to the selected photo to demonstrate compliance with the entry requirements. Sony will subsequently follow up with potential winners via email with instructions on how to claim the prize. If a potential winner does not respond and comply with the instructions in the initial Instagram Direct message within five (5) days, or if the data reveals that the photo does not comply with these terms and conditions, the participant will not be eligible to receive the prize and an alternative winner will be selected. A maximum of three (3) alternate winners will be contacted.
Three (3) winning entries will be selected and winners will receive one of the following prizes:
1st place: RX10 IV (approx. Value €1,800/£1,600)
2nd place: RX100 V (approx. Value €1,000/£900 )
3rd place: RX0 (approx. Value €800/£700)
No cash or credit alternative is available. Prizes are not exchangeable or transferable. Should the prize(s) become unavailable for any reason, Sony reserves the right to provide a substitute prize of equivalent Value.
Winners shall be fully and solely responsible for any individual tax liability relating to receipt of the prize(s) and, by accepting their prize, winners agree to release Sony from any such liability.
Winners will be announced on the @sonyrxmoments Instagram account by mid-August 2018 and prizes will be sent out to winners by 31 August 2018, at no cost to the winner. Prizes will only be delivered to addresses in the Qualifying Countries listed in section 2 above.
All winning entries will automatically be entered into a further global prize contest ("Global Contest") alongside winners from contests in other regions, with a chance to win the following additional prizes:

Overall Global Contest 1st prize:
DSC-RX1RM2 Professional Compact Camera
NP-BX1 Rechargeable Battery Pack
FDA-V1K Optical Viewfinder Kit
LCJ-RXH Jacket Case
LHP-1 Lens Hood
PCK-LM15 Screen Protector
VF-49CPAM Circular Polarizing Filter
VF-49MPAM MC Protecting Filter
DSC-RX0 Ultra-compact digital camera
approx. Value: €6,200/£5,500

Four runners up in the Global Contest will each receive a DSC-RX1RM2 camera and a DSC-RX0 Ultra-compact digital camera. approx. Value:€4,800/£4,200

Global RX0 prize:
Camera of winner's choice from the Sony RX series
MPK-HSR1 Housing
VFA-305R1 Filter Adaptor Kit
CPT-R1 Cable Protector
VF-SPR1 Spare Lens Protector
ACC-TRDCJ ACC-TRDCJ Accessory Kit
VCT-CGR1 Cage
VMC-MM2 Release Cable
approx. Value £1,600 (plus value of selected RX series camera prize)
The Global Contest will be judged by a panel of judges set up by Sony Corporation in Japan including at least one independent judge and winning entries will be selected based on the overall composition and creativity/originality of the photo.
Global Contest winners will be contacted using Instagram Direct from the @sonyrxmoments Instagram account and winning entries will be announced on the @sonyrxmoments Instagram account by mid-September, with prizes sent out by mid-October 2018.
Acceptance of prizes shall constitute consent on the winner's part to allow the use of the winner's name, image and/or likeness by Sony for editorial, advertising, promotional, marketing and/or other purposes without further compensation except where prohibited by law. Other than notification of winners, no inquiries will be accepted regarding entries and selection of winners.
By entering photos into the Contest, the participant warrants that: (1) the photos comply fully with the contest rules and these terms and conditions; (2) the photos are original photos taken by the participant using a Sony RX series digital camera; (3) the participant owns all rights (including copyright) in the photo(s); and (4) the photos do not infringe the rights of any third party and that permission has been obtained to use the image of any person included in the any submitted photos. The participant acknowledges that the submission of images from third party sources (including, for example, other websites or blogs) is prohibited and use of such photos without permission may constitute infringement of copyright.
Entries may be excluded or prizes rescinded if Sony reasonably determines that there has been an infringement of the entry requirements, these terms and conditions or public order and morality.
The participant grants Sony an irrevocable, non-exclusive, free of charge licence to copy, modify, edit, adapt, publish, reproduce, display, distribute or otherwise use (including commercial and/or PR use) in any form or medium, anywhere in the world, forever (including a right to sub-license to other Sony group companies). The participant agrees to waive all moral rights in the use of the submitted photos. In particular, the participant acknowledges and agrees that submitted photos may be published on Sony Group websites and social media accounts and that Sony may edit or alter the photos (e.g. cropping or addition of image, music or sound effects). The participant warrants that it has the rights necessary to grant the licence set out in this clause.
Sony accepts no liability in respect of the use of publication of submitted photos and the participant shall be solely responsible for resolving any disputes with third parties relating to the photos they have submitted, at their own cost. The participant agrees to indemnify and hold harmless Sony, its affiliate companies, directors, employees and agents from and against any claims, damages, losses, costs or expenses of any kind howsoever arising in connection with his/her participation in this Contest, including the use by Sony of submitted photos and the participant's acceptance or use of the prizes.
Sony makes no representations or warranties, whether express or implied, regarding this Contest or the prizes, other than as expressly set out in these terms and conditions. Sony shall not be liable for any technical errors or errors on the Instagram platform that may prevent a participant from entering the Contest or from receiving or sending direct messages. Sony does not seek to exclude liability for death or personal injury arising from its own negligence.
Participants' personal information will processed in accordance with Sony's privacy policy and will only be used for the purpose of the administration and publicity of the Contest, including for communications relating to the Contest, management of entries, dispatch of prizes, display of winning entries, and for purposes incidental to these activities. By entering the Contest you agree that your name, age, country and camera information may be published together with your submitted photo.
All personal information provided by participants will be destroyed or deleted after the Contest is finished, except in the case of prize winners and participants whose photos will be used.
Failure by Sony to enforce any of these rules or terms shall not constitute a waiver of that provision.
Unless local law in the participant's country of residence provides otherwise, the Contest, including the entry requirements and these terms and conditions are governed by English law any dispute will be subject to the jurisdiction of the courts of England and Wales.